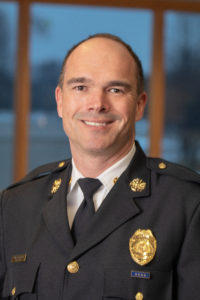 Chief T. John Cunningham has over twenty-one years' experience in the public safety sector.  He is presently the Fire Chief and Emergency Management Director for the City of Brooklyn Park, the fourth largest city in the metropolitan area and the sixth-largest city in Minnesota.  With a population of over 80,000 and a community that is 51% diverse, the city is abounding in natural beauty and is the perfect location for families and businesses alike.  The fire department is a progressive, full-service emergency response and public safety agency handling over 9,900 incidents annually.  Chief Cunningham is responsible for the department's direction and strategy, personnel, budget, and day-to-day operations.
Prior to joining the Brooklyn Park Fire Department in 2018, Chief Cunningham was the Fire Chief and Emergency Management Director for the City of Elk River, Minnesota.  He is credited with leading the development of the department's first multi-year strategic plan, launching a successful Fire Academy Program, expanding the department's leadership team, and implementing a new records management system (RMS).  A citywide reorganization in 2012 brought building safety and code enforcement under the auspices of the fire department, a synergy of services consistent with the department's mission of public service.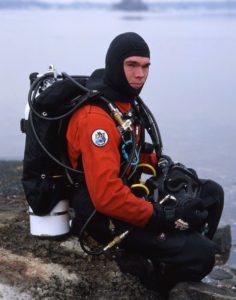 Chief Cunningham began his public safety career at a young age, joining a fire explorer program at thirteen and becoming a volunteer firefighter in Greenwich, Connecticut in 1998.  He quickly rose through the ranks within the combination department of over 200 career and volunteer firefighters, holding every volunteer leadership position including district chief.  He was also one of the original members of the Connecticut Urban Search and Rescue Team (CT-TF1) and was actively involved the fire department's technical rescue team and dive program.
In October 2017, Chief Cunningham was elected as the President of the Minnesota State Fire Chiefs Association, a professional non-profit organization representing 2,000+ fire officers from nearly 500 Minnesota fire departments.  He has also served as a board member of the Statewide Emergency Communications Board. He is actively involved with the Minnesota Fire Service Foundation, having served as the honor guard commander at the Minnesota Fallen Firefighters Memorial Service.
Prior to becoming a career chief, he owned a successful technology consulting business which he started in high school.  He also worked as a consultant for technical rescue/disaster response training firms around the country, facilitating training programs and large-scale disaster exercises.
Chief Cunningham is a strong advocate for continuing education and career development.  He regularly teaches leadership, incident management, safety, fire and rescue operations, and is an instructor for a hostile event/active shooter training program.  He has led and assisted on a number of table-top and functional exercises, including a public safety LTE broadband technology pilot in Elk River.
Chief Cunningham's educational background includes a Bachelor's Degree in Business Management from Fairfield University and a Master's Degree in Homeland Security Leadership from the University of Connecticut. He also holds a certificate in Collaborate Leadership in Homeland Security from the University of Connecticut and is a certified fire officer, instructor, and Emergency Medical Technician (EMT).  He is a licensed firefighter in Minnesota.
He is married to his partner, Benjamin, and lives in Elk River, with their two dogs, Liberty and Cooper. He enjoys spending time with family and friends, traveling, fitness, reading, and self-help home projects.