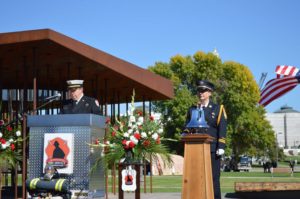 Discreetly tucked in along with conveyor belts, digital signage, and thousands of people traversing the baggage claim area hurrying to their final destination as loudspeakers screamed, "Mr. Smith, please report to Gate 22" at the Minneapolis/St. Paul Airport was a statue of great significance and honor.  In 2011, a statewide initiative was launched to move the 19,000 pound monolith which measures 22'x28'.  The statue paying tribute to Minnesota fallen firefighters would find its new home on the sacred memorial grounds of the Capitol.
In front of thousands of family, friends, uniformed firefighters, dignitaries, and media, the 6,000+ square foot memorial was dedicated on September 30, 2012.  That day marked the beginning of an annual event dedicated to honoring the hundreds of Minnesota firefighters that have died in the line-of-duty (LODD).  The Governor, who attends each year, proclaims the day as Minnesota Fallen Firefighters Memorial Day and orders all flags lowered to half-staff.
The 2018 Minnesota Fallen Firefighters Memorial Service will be held on Sunday, September 30.  The Minnesota Fire Service Foundation, the non-profit organization whose mission is to preserve the memory of all of the Minnesota firefighters who have lost their lives in the line-of-duty, is well into the planning phases for this year's event.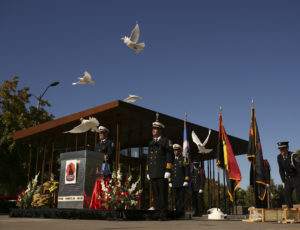 It is important that we, the Minnesota fire service, make this event a priority.  Firefighter attendance has been steadily dropping over the past few years.  What once was a sea of blue, white, and red uniforms standing at attention is now open green space.  Chairs are empty.  Many of the same familiar faces are regular attendees and are also working behind the scenes to make sure the ceremony is flawless.
Lieutenant Spencer.  Firefighter Brotherton.  Firefighter Jackson.  Firefighter Lucey.  Firefighter (Lieutenant) Lyons.  Firefighter McGuirk.  These are the names of the six Worcester firefighters that were killed at the December 3, 1999, Worcester Cold Storage and Warehouse Co. fire in Massachusetts.  At nineteen, this was the first LODD funeral I attended and it left a huge impact on my personal and professional life.  It defined the meaning of brotherhood and cemented my commitment to never forget.
The last Sunday in September is dedicated to honoring the sacrifice and paying tribute to our comrades that have died.  It is about supporting the families of those that have lost a loved one and grieve each and every day.  Sadly, two names will be added this year: Captain Jeff Vollmer (Mayer Fire Department) and Firefighter Timothy Royce (Mapleton Community Fire Department).
The Minnesota fire service is over 21,000 strong.  I urge each and every one of us to attend this year's Memorial Service to show the entire state that we have not forgotten.  Add it to your calendars. Get involved.  For more information, please visit www.mnfireservicefoundation.org.
Note: this article appeared in the July/August issue of the Minnesota State Fire Chiefs Association magazine. For other articles by leading fire service professionals, join the MSFCA today! Magazine memberships are available!